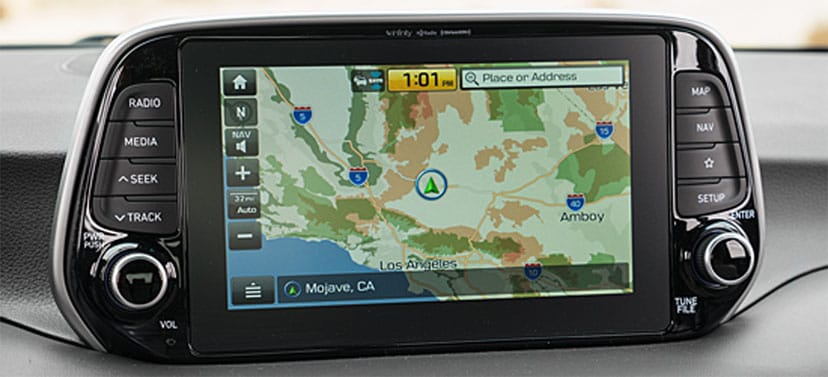 Hyundai has included a navigation system in their vehicles since 2017. This navigation system is used with your infotainment system to get you various routes to a specific destination. Since construction and other issues can alter the maps of a particular area, Hyundai has provided its customers with three years of map updates at no charge.
The process of obtaining these maps is very simple. You have the option of having our technicians complete the update for you when you bring your vehicle in to our service center at Van Hyundai for routine maintenance. You can also update the maps using the SD card that is included in your automobile. Your owner's manual will point you in the direction of where the SD card is located. Just be sure that you have a computer that is SD compatible. If not, you would need an exterior reader.
Head to https://www.mapnsoft.com/hyundai/mapcare where you can log in to your account. If you haven't created an account yet, you'll need to do so before being able to continue. The website will ask for your VIN in order to properly identify your vehicle. Make sure you have that ready to go before starting the process.
Once your vehicle has shown up on the main menu screen, you can click on +FREE Navigation to download the updated map software that is available for your vehicle. You will need to enter your device ID and confirm your order. Your order number will begin with the letters "MCHU". Jot down the information that is given to you throughout the process. Once your downloads have finished, you can remove the SD card from your computer and place it back into your vehicle.
The authentication code for your free order should be entered when you see the prompt for "Map update Manual (PDF) Download" on your vehicle's main menu. Follow the instructions provided to complete the download process.
If you have never created an account before, you should click on the "Create an Account" option that is provided at https://www.mapnsoft.com/hyundai/mapcare. You should enter the various information that is requested by the website. Login can begin immediately upon signing up.
Let us here at Van Hyundai know if you need help with the process of updating your Hyundai navigation maps. This is a process that a lot of people put off, but you could find yourself having trouble navigating a new area if you don't have the most recent information that is available.