Quick Stats for the Hyundai Elantra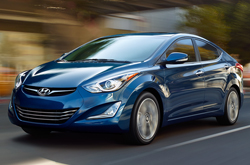 When you compare Hyundai's new 2015 Elantra to the 2015 Toyota Corolla, Ford Focus, Chevrolet Cruze, Nissan Sentra, Honda Civic and the Mazda3, we're sure you'll learn that the Elantra is perfectly built for you. If the Elantra's budget-friendly sticker price and passenger-oriented onboard technologies don't prove to you that it's the right vehicle for your needs, we're sure its eye-catching styling will seal the deal. Compare its price to the competition and you'll see that it's a truly amazing value, which is one of the main reasons why so many Dallas drivers select it. Look over the Elantra bullet list under this text for more quick facts.
2015 Hyundai Elantra Cargo Space: 14.8 cubic feet
2015 Hyundai Elantra Doors: 4-door
2015 Hyundai Elantra Seats: 5 passengers
2015 Hyundai Elantra Body Style(s): Sedan
2015 Hyundai Elantra MPG: 28 city / 38 highway
2015 Hyundai Elantra 0-60 MPH in 8.4 seconds
2015 Hyundai Elantra MSRP: $17,250
2015 Hyundai Elantra Colors: Red, Bronze, White, Blue, etc...