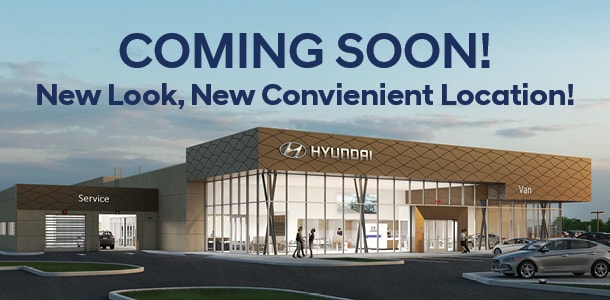 Since opening in 2008, Van Hyundai has been one of the fastest growing auto retailers in the Dallas-Fort Worth Metroplex. We believe that our growth was spurred by simple good business practices: putting the customer first, acting honestly, treating people with respect and only engaging in solid business dealings that ensure our customers' financial security. To this day, we remain a top Dallas-area Hyundai dealership because we continue to work ethically and because we're truly enthusiastic about the products we provide to the local public.
When you're looking for new Hyundai cars for sale in Carrollton, Coppell, Addison, Plano, Las Colinas, Irving or any other nearby city, we believe you'll be best served by coming to us before going anywhere else. We've developed a positive reputation not only for offering a large selection of new Hyundai cars for sale at great prices, but also for treating our customers cordially, acting with professionalism and never encouraging the use of gimmicky sales tactics among our staff. Pricing is also a bonus for those who choose to shop with us and we do our best to ensure that our Dallas-area Hyundai dealership holds a competitive place in the market when it comes to prices.
At Van Hyundai, our intention is to create lifelong relationships with our customers. We don't just look at guests as one-time business opportunities and don't go for the get-in-get-out approach to sales. &If you're unsure of which vehicle is right for your needs, our associates will take time to understand how you use your car on a daily basis, for recreational activities, trips and family, and will assist you in finding the right vehicle model based on these factors. We do, however, understand that some customers know exactly what they want when they come into our Dallas-area Hyundai dealership or they're stopping by on busy schedules and in these cases we accommodate patron needs, as well.
Whether you purchase new or used, we offer top-reviewed car repair near Dallas, so you can count on the fact that we'll continue to provide you with superior service even after the purchase or lease process is finished. We don't just forget about our customers once the paperwork is done. On the contrary, we aim to build relationships with our patrons and assist them throughout the ownership period. We have a Hyundai parts and service department, where your vehicle will be in the good hands of factory-trained auto technicians.
Hyundai financing and lease specials are currently available, so view inventory now to see what's in stock or schedule an appointment online now to have your vehicle serviced. In addition to being a top supplier of new and used Hyundai cars for sale in Carrollton and a leader in the DFW business community, Van Hyundai is also a proud longtime supporter of the D-Bat Mustangs! The D-Bat organization is one of the largest youth baseball establishments in the country and it's headquartered right here in Carrollton. As a direct result of our sponsorship in 2014 the Mustangs won their first-ever Connie Mac World Series Title! Several of the young men on this team will go on to have very successful MLB careers and we are proud to have helped provide this opportunity.
Hours
Monday

8:30 am - 9:00 pm

Tuesday

8:30 am - 9:00 pm

Wednesday

8:30 am - 9:00 pm

Thursday

8:30 am - 9:00 pm

Friday

8:30 am - 9:00 pm

Saturday

8:30 am - 9:00 pm

Sunday

Closed