Hyundai is a reputable brand that is known for its overall quality, and you may be one of many proud Hyundai drivers who enjoy a hassle-free experience behind the wheel most of the time. Regardless of the Hyundai model that you enjoy driving regularly, your Hyundai requires several essential maintenance services to be completed regularly. One of the components that many drivers have questions about is the transmission. You may not be aware that this component requires service, or you may not understand when it should be serviced. Keep in mind that your Hyundai's transmission controls performance through the vehicle's power and torque. It is a vital system that must work well in order for the vehicle to operate as desired. The last thing that you want is to deal with a burdensome transmission issue, and you can avoid many potential issues by scheduling service with our skilled and certified technicians regularly.
What Service Is Recommended for My Hyundai's Transmission?
Transmission fluid is vital to the condition of this system, and this is because it serves the important purposes of moderating heat that is generated and lubricating the working parts. This fluid will become thicker and darker as it becomes saturated with metallic particles and general dirt particles with regular operation of the Hyundai. This can minimize the effectiveness of the fluid. Commonly, you should plan to schedule transmission fluid service every three years or after you have driven 45,000 miles. However, this is a rule of thumb, and you should verify your vehicle's specific needs by reviewing its ownership manual and consulting with one of our service team members.
What Type of Transmission Fluid Service Is Needed?

When you bring your Hyundai to our service department for transmission fluid service, you can specify whether you want a full fluid flush or a fluid change. A full fluid flush is a more substantial service because it removes all old transmission fluid from the entire system, and this includes the cooler lines, the torque converter and the pan. A fluid change only removes the fluid that is currently in the pan, and older fluid remains in the other components. Filters are replaced with both types of transmission services. A full fluid flush is usually preferred and beneficial for drivers who have not had a recent transmission fluid service or who may not remember to change the fluid again soon.
Does My Hyundai Need Transmission Service Today?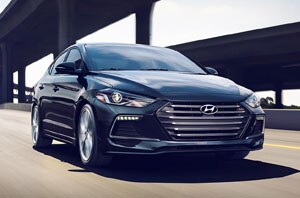 If you are concerned about the condition of your transmission fluid, we can easily check the color and consistency of the fluid to determine if it needs to be flushed or changed. A damaged transmission that requires repair work may have noticeable indicators. The most obvious one is when the "check engine" light is illuminated. Other signs that transmission repair work is needed include jerky, rough movement when the car changes gears, a burning smell from under the hood or transmission fluid leaking below the car. Your Hyundai's transmission condition is not a matter to take lightly. Pay attention to its warning signs, and schedule repair service as soon as possible when trouble develops. It is also helpful to schedule fluid maintenance service regularly. For any auto service needs, contact us today to make an appointment.