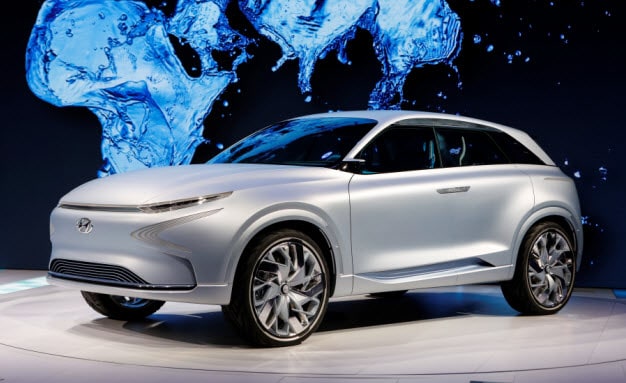 This year's Geneva Motor Show saw the arrival of Hyundai's FE Fuel Cell Concept. Considered the "next-generation of hydrogen-powered vehicles," the fuel-conscious car represents the next step in Hyundai's mission to promote and create a Hydrogen Energy Society.
The new FE Fuel Cell Concept is a part of Hyundai's eco-vehicle program that aims to launch 14 environmentally focused models on the market by 2020. Its name, FE, stands for Future Eco, which is a nod to the car's innovative technologies. Futuristic in design, the model's exterior styling is inspired by both water and nature, featuring flowing lines and subtle curves that blend into the body. A rear air foil equipped with vents is also present, enhancing the car's aerodynamics.
Inside, the FE sports an internal air humidifier that recycles water emitted from the hydrogen energy circulation, and portable battery packs that can be used to power devices while on the road. There's also storage and charging space for an electric scooter in the trunk, further promoting eco-friendly transportation outside of the vehicle.
When it comes to efficiency the FE Fuel Concept takes the cake. Outfitted with fourth-generation hydrogen fuel cell technology, the car is 10 percent more fuel-efficient than the previous Tucson ix35 Fuel Cell. It can also travel 800 kilometers without needing to refuel, which is a huge benefit for drivers.
While the FE Fuel Cell isn't expected to go into production, a model based on the concept is scheduled to be released in 2018. You'll be able to find this model at Van Hyundai when it hits the market.