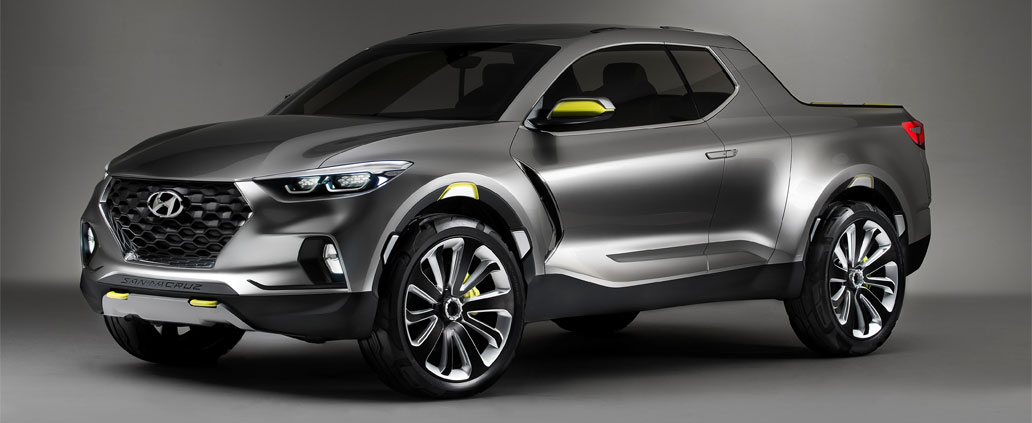 At the 2015 Detroit Auto Show, Hyundai unveiled the Santa Cruz pickup truck concept (pictured above). The design of this unique truck results from Hyundai listening to customers and to what type of truck they found most appealing. Several years later, the automotive has confirmed that it is manufacturing the Santa Cruz starting next year. The new model will be produced at Hyundai's U.S. automotive assembly plant in Montgomery, Alabama, alongside the Santa Fe, Sonata and Elantra.
Along with being the first truck offered in the Hyundai lineup, the automaker has stated that the pickup essentially creates a new vehicle segment. It's designed for shoppers who desire a small crossover, but with a cargo bed for added convenience.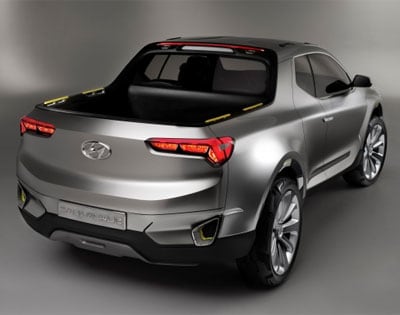 It's still very early, so there may be many changes, but we're already quite excited. It's expected that the Hyundai Santa Cruz will share a platform and parts with the Santa Fe crossover. If engines are shared between the two vehicles, the Santa Cruz will get the 2.4-liter four-cylinder and the 2.0-liter turbocharged four-cylinder. Although both engines are rated a respective 185 and 235 horsepower, it's expected that the Santa Cruz will get higher-powered versions of these engines for the necessary towing power needed. There are also rumors that a hybrid option could be offered.
An extendable cab body style is part of the Hyundai Santa Cruz concept car, and there is talk of reverse-opening doors on some of the trim levels. The unique bed style pulls out like a drawer, so you can expect some pretty impressive cargo space. A traditional crew cab with forward-hinged doors may also be part of the lineup.
We can't wait for the 2022 Hyundai Santa Cruz to go on sale in Carrollton, Texas! Keep up with our blog for more news regarding this new model as its arrival date approaches. While you're here, also take a moment to explore current inventory by clicking below!