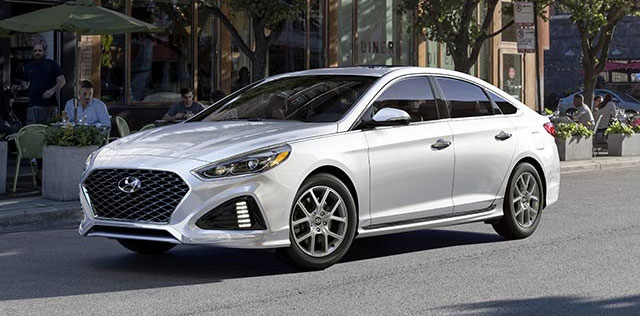 2018 Hyundai
Sonata
Keyless Ignition
✔ Standard
Basic Warranty
✔ 5yr. / 60,000 mi.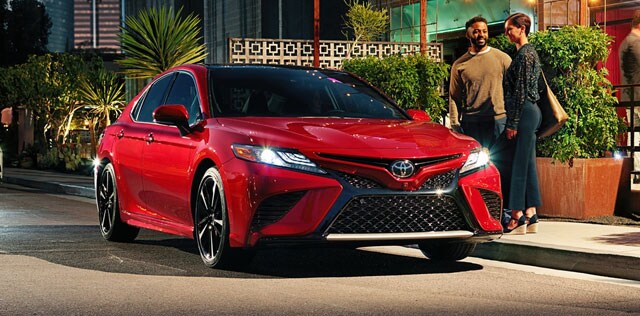 2018 Toyota
Camry
Keyless Ignition
✖ Available on Other Styles
Basic Warranty
✖ 3yr. / 36,000 mi.
Those who are looking for an affordable vehicle that has high-level reliability often choose from the Hyundai Sonata or the Toyota Camry. Both cars are attractive due to their low price and are known to continue running beyond 100,000 miles. Each vehicle is a competitor of one another with many differences.
Specs at a Glance
Gadgets and Technology
More cars are now built with more tech tools and gadgets as a way to increase safety on the road and offer convenience for drivers. The 2018 Hyundai Sonata and the 2018 Toyota Camry both have an impressive amount of technology that is integrated into each car model, but Hyundai offers more to consumers. Unlike the Camry, the Hyundai offers smartphone interface. The latest Hyundai features a Blue Link infotainment system with a navigation system that is available on upper trims.
The newest Camry include an Entune infotainment system with Bluetooth connectivity that comes standard. Drivers will need to install the Scout Navigation app to connect their phone to the vehicle, making it easy to play music, make phone calls, and perform voice commands. Turn-by-turn directions are also available while using the smartphone's data. Both car models offer wireless charging stations.
Interior Features
There are interior improvements made on the 2018 Sonata, which includes a redesigned automatic shift knob and classier buttons for the HVAC and radio. The vents are redesigned and placed on each side of the infotainment system, making the Sonata look similar to a luxury vehicle with its dashboard. Additional perks of taking a ride in the vehicle include heated and ventilated front seats, heated rear seats, heated steering wheel, proximity-key entry, adaptive headlights, push-button ignition, and HD radio.
The seats offer plenty of comfort and support, which makes it easy to take long drives with your family in tow. The Hyundai is also favorable because it provides more cargo space compared to the Camry with 16.3 cubic feet of room available compared to the Camry's 15.1 cubic feet in the trunk.
The Toyota Camry has a cabin that looks similar to the Sonata but built with seats that are stiff and feel overstuffed. Even with leather seats, they are hard and feel too firm in both the front and back seats. Overall, bumps in the road are dampened with a smooth and comfortable ride that is provided. The cabin also has more noise that is heard when the engine is running opposed to the quiet interior of the Sonata.
Safety
Safety is one of the main concerns for drivers during their commute. The 2018 Hyundai is an ideal choice due to the advanced technology and features that it offers to reduce the risk of collision. The vehicle received high ratings by the IIHS and NHTSA due to the features that they offer and how well it performs during crash tests. Drivers can stay safe by using the blind spot monitoring feature, cross-traffic alert, brake assist, electronic stability control, and daytime running lights.
The 2018 Toyota Camry also scored well during crash tests and comes with lane keeping assist, daytime running lights, electronic stability control, 4-wheel ABS, lane departure warning, and traction control.
When you are shopping for a new vehicle and want to learn more about how the Sonata compares to the Camry, consider visiting our dealership or contacting us to schedule a test drive. We will introduce you to the latest car models and discuss the financing options that are available at Van Hyundai.
Question? We Can Help