Hyundai Elantra Review for 2016 Model Year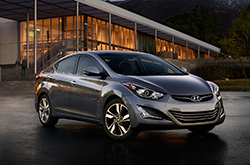 Between the stylish exterior, contemporary features and top-notch capability, the 2016 Hyundai Elantra is an undeniable choice for buyers seeking generous amenities and extra comfort wrapped in an unbeatable value. Rolling out in 2016 with a new trim level, this mid-size sedan carries on the Hyundai legacy of refinement and practicality. Plus, with long warranty coverage, premium safety features and security options, the 2016 Hyundai Elantra in Dallas proves to be a worry-free choice built for your satisfaction.
A perfect fit for buyers looking for extra features at an affordable price, the all-new Value Edition trim bridges the gap between the base SE and the upscale Sport and Limited models. While the standard SE comes with the practical features like a 60/40 split-folding rear seat, a premium audio system with Sirius XM and MP3 capability, a trip computer, vehicle stability management and remote keyless entry, the Value adds extra indulgence with heated side mirrors, Bluetooth hands-free software, a 4.3-inch color touchscreen display with a rearview camera and solar glass that prevents extra glare on sunny Texas days. At the top of the lineup, the Limited trim delivers a luxury-car experience at a price that won't break the bank.
Sharing a 1.8L I-4 engine rated at 145 horsepower, the front-wheel drive SE, Value and Limited models offer a combined fuel economy that hovers around 32 mpg. Drivers seeking extra agility will be pleased with the Sport trim, a favorite in the eyes of our 2016 Hyundai Elantra review. Utilizing a 2.0L 4-cylinder engine, the Elantra Sport delivers 173 horsepower and 154 lb.-ft. of torque that will leave competitors in the dust.
Beyond the comfort and performance, the 2016 Hyundai Elantra in Dallas flaunts a Fluidic Sculpture style that will turn heads as you smoothly turn corners. The wraparound projector headlights, front fog lights and lower wheelbase add to the agile profile that is as alluring as it is aerodynamic.
A safe, convenient and impeccable choice that is bound to make your friends green with envy, this mid-size sedan equips drivers with infinite opportunities. Sporty for your active lifestyle, yet practical when it comes to efficiency and safety, the Elantra is undeniably charming. Want to learn even more? Check out the rest of our 2016 Hyundai Elantra review below or visit our Dallas-area dealership to experience the quality for yourself.