Welcome to Van Hyundai's Equus Review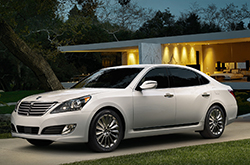 Combining top-tier luxury with practical value, the 2016 Hyundai Equus in Dallas is an exceptional full-size sedan you'll be proud to flaunt around the valley. Not only does the Equus come with an extraordinary array of standard features, but it also comes with a road presence bound to turn heads and a premium powertrain that will get you from point A to point B in a flash. A top choice in the eyes of our 2016 Hyundai Equus review, this full-size luxury sedan oust rivals with a top-tier bundle, while simultaneously providing one of the best values around.
While this year's Hyundai Equus rolls in with only a minor feature upgrade, the introduction of a Hands-free Smart Trunk on the Ultimate trim, shoppers will find all of the most up-to-date technology and innovations housed in this upscale model. From heated and cooled front seats, a Lexicon Surround Sound audio system with 17 speakers, a 9.2-inch LCD screen with built in navigation, a leather wrapped heated steering wheel and keyless entry to lane departure warning, blind spot detection, smart cruise control and nine airbags, the Equus comes standard with all of the convenience and safety features that make for a top-of-the-line luxury.
It wouldn't be a luxury sedan without premium performance, though. Equipped with an Electronically-controlled Air Suspension system and Continuous Damping Control, the Equus provides a smooth ride regardless of road conditions. Plus, the 429-hp 5.0L V8 outperforms the Lexus LS 460 and Audi A8 while the standard, innovative 8-speed automatic is not available on luxury rivals like the Mercedes-Benz S550 and Cadillac XTS. The true icing on the cake in the opinion of our 2016 Hyundai Equus review? The supreme 126 cubic feet of interior space beats out rivals and delivers comfort that cannot be found elsewhere.
An elite choice from top to bottom, the bold 2016 Hyundai Equus in Carrollton is a superlative choice for local drivers. Luxury you'll have to see to believe, this full-size sedan is available and ready to be test driven at our dealership near Dallas today.