Hyundai Tire Service Details
Discover the benefits of have your tires serviced in the Dallas area.
Van Hyundai is your go-to place for Hyundai service and tire replacement in the Dallas-Fort Worth Metroplex. Our onsite service center is managed by a team of factory-trained professionals who are certified to perform tire maintenance on all makes and models. From wheel alignment to tire rotation in Carrollton, we can handle it all. Schedule an appointment online with us today to have your Hyundai serviced.
Are you in need of new tires? Our team can handle that too. We have a range of premium tires for sale in our inventory from leading brands in the industry. Choose from Michelin tires, Pirelli tires, Firestone tires, Bridgestone tires and many more. For further inquiries about our inventory, please contact us for information.
Why Do I Need Tire Service?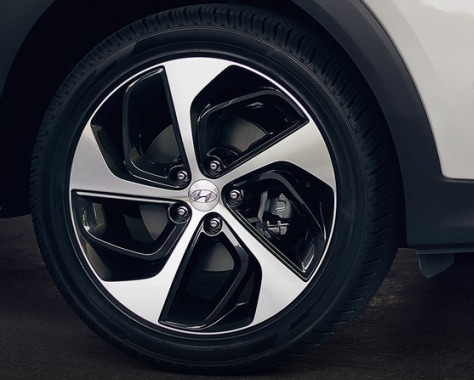 Receiving annual tire service is a must if you want to keep your Hyundai running smoothly. Tires wear out overtime, and if you don't have them rotated on occasion, your tires will suffer from uneven wear and you'll have to replace them sooner than usual. Routine wheel alignment near Dallas is also recommended to avoid performance problems due to unaligned tires. By performing these tasks you can prolong the life of your vehicle's tires.
Neglecting routine tire maintenance can not only lead to worn tires, it can lead to tire failure. According to the National Highway Traffic Safety Administration, more than 11,000 car accidents a year are caused by tire failure, which in several cases could have been avoided. Having your tires inspected and serviced annually can help prevent this from happening to you and potentially save your life.
When to Purchase New Hyundai Tires
Do you speed, drive on damaged roads or neglect tire maintenance? If so, you may be in need of new tires. Each of these factors, including age, play a role in how often you need your tires replaced. Keep these in mind, and look for the below signs when inspecting your Hyundai, to determine when you require new tires near Fort Worth.
Low Tread
Shallow tread is a clear indication you need new tires. To check the tread on your tires, place a penny with Lincoln's head pointing down into the tread. If you can still see the top of Lincoln's head, your tread is too low.
Cracks & Bulges
Bulges and cracks in your tires always warrant immediate tire service. These are signs you could have internal tire damage or a slow air leak. These are often caused by running over foreign objects in the road that puncture the tire.
Rough Ride or Vibration
Does your car often vibrate or feel rough on the road? There could be something wrong with your Hyundai tires. This is a common sign you have tire damage or alignment issues that need to be addressed.
At Van Hyundai, we are here to help if you find yourself in need of tire service or replacement in Carrollton. Unlike several discount tire shops, our staff specializes in Hyundai cars and can help you find the right tires for your specific model. Come down to our dealership today and we'll be sure to assist you!
Service Hours
Monday

7:00 am - 7:00 pm

Tuesday

7:00 am - 7:00 pm

Wednesday

7:00 am - 7:00 pm

Thursday

7:00 am - 7:00 pm

Friday

7:00 am - 7:00 pm

Saturday

7:00 am - 3:00 pm

Sunday

Closed